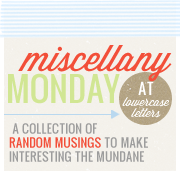 Link up with the rest of us
here
10 months already.
Yes people, my little Ava is 10 months old today!!! Where has 10 months gone?? She is so precious, and growing WAY too fast...check back tomorrow for my update post on what she has learned to do from month 9 to month 10.
Dinner list.
While reading through other blog posts for Miscellany Monday I happened upon a blogger who posted her plans for dinner for this entire week! Oh how I wish that I could be that woman. Not only did she already have dinner for an ENTIRE week planned out, she had really good dinners planned, restaurant style dinners. I am going to be honest and tell you right now that I am doing good to plan Tuesday's dinner Monday night much less having the entire week planned by Monday morning!
Guilty Reading.
I have a guilty pleasure, and it is reading young adult books. Right now I have been introduced to a series called
Uglies
. It is addicting and I love it so there!
Happy Monday ALL!!