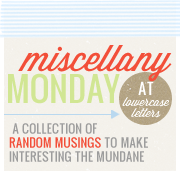 Friends ARE Family. Today on the way to eat lunch with his Dad, Tim informed me that anyone that is not blood related to you is not your family. I beg to differ! Some days I do not know what I would do without my family of friends!
Baby free time. I often find myself feeling guilty to let Ava go stay with someone so that I can have some me time, but this weekend, for the first time since November, I asked her Aunt G and Uncle T to babysit for a few hours. It was SO nice to be able to walk into a store and look. I was actually able walk around the strip mall in absolutely NO hurry. AND to top the afternoon off...I went home and laid on the couch and watched Sex and the City for TWO QUIET HOURS!!! Of course after five hours (seemed like two days) without my beautiful little girl I couldn't take it anymore, and I went to pick her up.
Loved baby. I have the MOST loved little girl in the world! I swear I have never seen so many people love a child. She has more Aunts, Uncles, Cousins and Grandparents than any child I have ever known. I feel so blessed that I have surrounded myself with such wonderful people, and I hope that one day Ava understands how blessed she is. Most importantly I hope that I am able to extend to her the knowledge to not take these people who love her so dearly for granted.
Just had to share this picture because she is too cute! Have a happy Monday!
Link up to post your Miscellany Monday
here